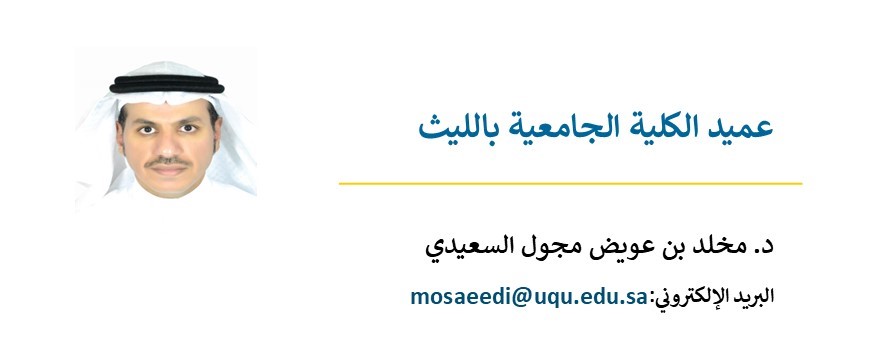 Al-Leith University College seeks to deliver its mission that stems from the mission of Umm Al-Qura University - a place which combines the sanctity of knowledge with the holiness of the land. It strives to contribute to the realization of the ambitious Saudi Vision 2030.
The college has taken upon itself the task of providing educational, research, and community-based services to our homeland's people in general, and to the people of Al-Leith Governorate and its affiliated centers in particular. It provides these services through its ten departments and various programs, while adhering to the highest standards of quality and academic accreditation through a select group of academic members from all scholarly disciplines, qualified from the most prestigious universities.
The college has harnessed all its capabilities to serve its students and equip them with the necessary knowledge and skills to participate in the development of this country. The college, therefore, has undertaken a review and modernization of its plans in order to best serve the educational interests of its students.
All this is first with Allah's Help, and then through the generous support of the Government of the Custodian of the Two Holy Mosques, King Salman bin Abdul-Aziz Al Saud, and His Royal Highness the Crown Prince, Muhammad bin Salman bin Abdul-Aziz (may Allah safeguard them), and the constant support and attention of Prof. Moaddi bin Muhammad Aal Madh-hab, the President of Umm Al-Qura University, and well as the cooperation of all the college staff.
Finally, I would like to welcome all visitors to this site, and I hope you will find it interesting and useful.
Dean of Al-Leith University College
Dr. Makhlad bin Owaid Al-Saeedi