Strategic Plan of the Department of Biology, Jamoum University College
(From the Academic Year 1439/1440 to 1444/1445 AH)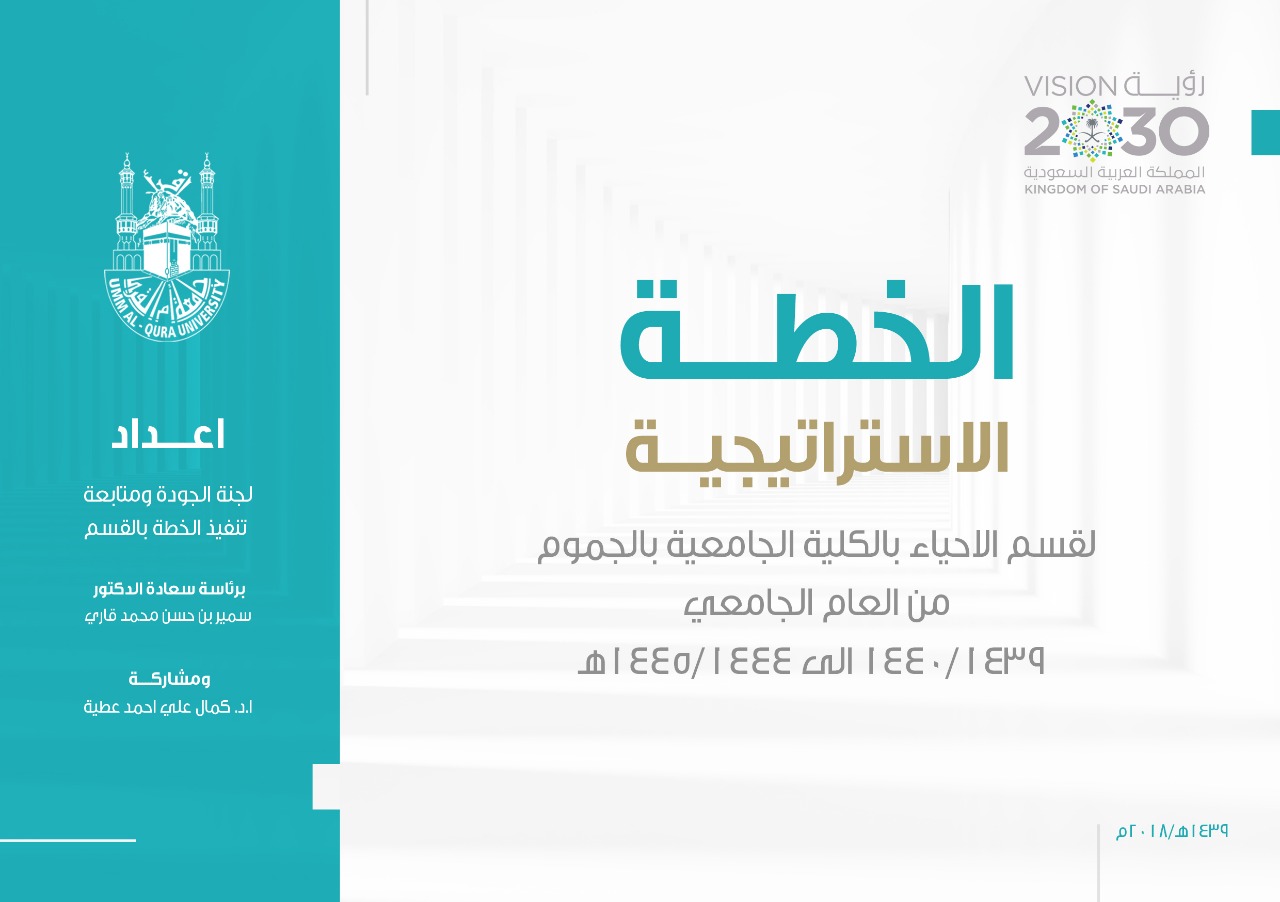 ​
About the Department of Biology
The bachelor's degree program (Plan 37) was introduced into the Department of Biology in the academic year 1436/1437 AH. Study in this program started in the second semester of that academic year. The duration of study at the Department is four years after which the student earns a bachelor's degree in biology. The mission of the Department of Biology at Jamoum University College is focused on providing distinguished education in the domain of biology within an environment that stimulates creative thinking and scientific research, which makes it easier to contribute to the local community through this science and to establish effective regional and international partnerships.
Given the global changes; the needs and requirements of the labor market; the competition in the field of education; and the necessity of adhering to quality standards, the Quality Committee was formed at the Department. Many working groups originated from this committee to ensure that quality requirements are met at the Department as part of the output of the quality system establishment project at Jamoum University College.
Focal Areas of the Strategic Plan
The strategic plan was worked on through three focal areas. These are the areas of interest for Jamoum University College in its strategic plan, and they represent the main focal areas for any educational institution concerned with higher education. The three focal areas are as follows:
Education and learning.
Graduate studies and scientific research.
Community service.
Through these focal areas, the Department seeks to meet the highest quality requirements; fulfill the needs of the labor market; and compete with counterpart departments locally and in advanced countries. The Department will also work on improving the quality of scientific research; publishing such research in prestigious international journals; and directing it toward practical application for solving social problems. This is in addition to building lasting, profound professional relationships with all society's institutions and communicating with graduates to create a partnership for development and to make the Department a professional reference for knowledge and community service.
To view the complete file of the strategic plan, click here.