​Vision
Achieving leadership and providing consultation in the area of GIS.
Mission   
Providing premium GIS training services, using methods that develop thought and creativity, in order to prepare competent citizens capable of contributing to the National Transformation Program and conducting scientific consulting studies that contribute to serving society and solving its problems, in addition to meeting the needs of both Makkah Region and KSA.  
Strategic Objectives   
Enhancing the Institute's contributions to the implementation of development plans that are based on geographic systems.
Reinforcing the Institute's good name at the public-sector and private-sector institutions engaged in the area of GIS.
Expanding the Institute's partnerships along with their activities and services in the domain of research, consultation, and knowledge, in addition to expanding training in the area of GIS for local and international beneficiaries, in a way that realizes the Unit's vision in particular and that of the Institute in general.
Developing and diversifying the Institute's resources of contract work in the area of GIS.
Making out of the Institute a professional accreditation authority for courses in GIS and other relevant systems.
Providing a professional work environment to crystalize the initiatives that will contribute to the achievement of the 2030 goals and the commitments of the Saudi Vision.
Engaging the private and government sector as well as potential beneficiaries in developing the Unit's work. 
Values
The Unit derives its values from the true Islamic religion and its tolerant principles, bearing in mind honest belonging to the homeland, besides stimulating the spirit of competition with the local and international training and consulting institutions in the area of GIS. The values are summed up in the following principles:
Transparency  
Justice
Belonging  
Leadership  
​
Main Work Scope of the Unit: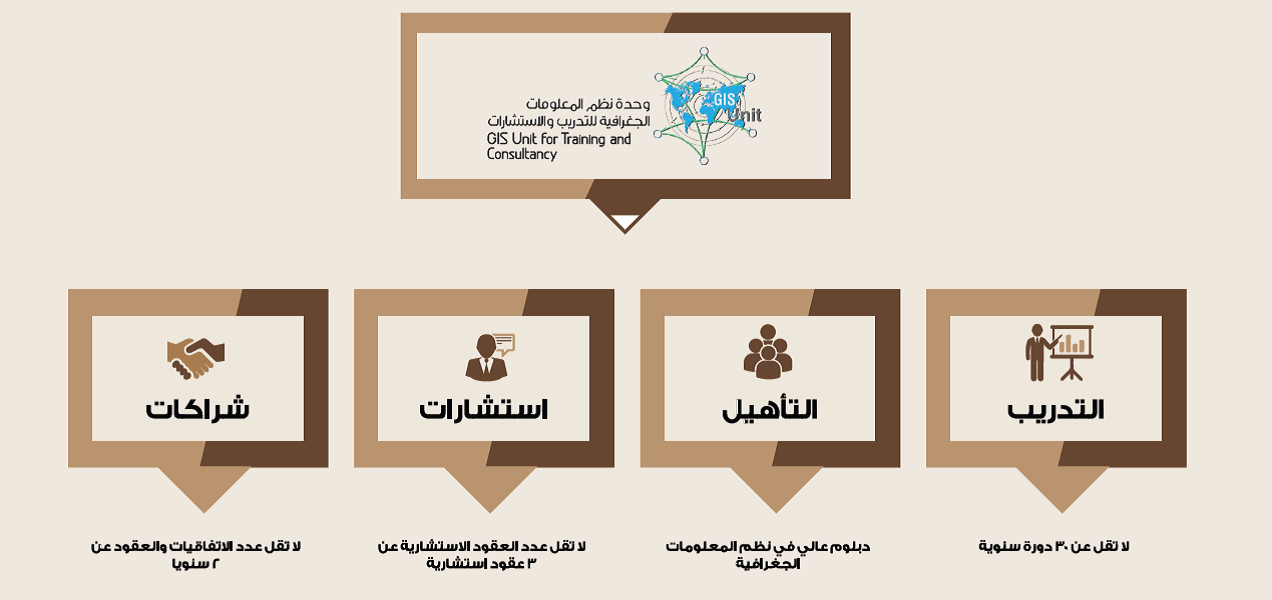 ---
Annual Reports: