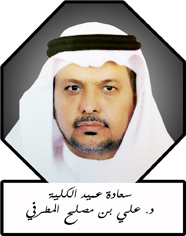 .
All Praise is due to Allah, Lord of the Worlds, and peace and blessing be upon prophet Mohamed Bin Abdullah (Peace Be Upon Him), his family and companions.
The College of Education is a high scientific edifice redolent with science and originality of heritage and history with deeply rooted Islamic origins dating back to more than fifty years. Such edifice witnessed successive achievements and devoted efforts causing its outputs to be a solid base for proper methodological preparation of an ideal teacher with heritage educational background, thus, its outputs serve educational edifices all over the KSA.
The College of Education seeks, through its nine units and as backed by its different educational academic programs, to settle the culture of educational scientific research and comprehensive human resources development in conjunction with enriching basic knowledge, applied and emotional skills which are necessary for a teacher to convert the traditional educational culture to an innovative system based on provoking thought, quality, assessment and development and lifelong ongoing enriching learning.
Thus, the College mission, which aims to serve both the university and the society, motivated us to open up effective communication channels with all segments of the society through providing diplomas, training courses and specialized consultancy to ensure promotion of individual, society and nation.
At the end, we thank his Excellency, Dr. Bakry bin Matuq Assas, the Umm Al-Qura University (UQU) President for support devoted to our college. We, also, thank vice-deans, faculty members and staff for their efforts for the advance of this scientific edifice, hoping more excellence and success for our staff and students.
College of Education Dean
Dr. Dr. Ali Mosleh Al Matrafi