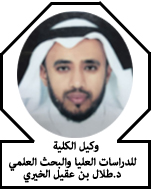 All praise be to Allah, and peace and blessings be upon our Prophet Mohammed, and upon all his family and companions..
We, in the Vice Deanship for Postgraduate Studies and Scientific Research, look forward to an integral and participatory role through which we can achieve leadership and distinction in the programs of postgraduate studies and scientific research; seeking to keep up with the 2030 ambitious vision of the Kingdom of Saudi Arabia. Through its different units, the deanship is concerned with introducing and developing the postgraduate studies programs in order to meet the community needs and to serve the labor market. Furthermore, it shoulders an important responsibility for developing the leading research capacities for the faculty members and the postgraduates as well, according to the top global criteria, and in a participatory institutional way to encourage and support the scientific research inside and out the college.
The deanship is endeavoring to provide all kinds of support to the teaching assistants and lecturers, and to facilitate the ways to complete their scientific path and scholarships in the most prestigious international universities.
We look forward to a direct and pioneering role in moving towards knowledge economy and investment in the human element through the creative and innovative programs that we derive from the initiatives in the global conferences, and the adoption of the creative ideas to support the scientific research and community partnership; in addition to attracting the scientific competencies to harmonize with the status of the leadership of the College of Education in Umm Al-Qura University towards the honor of science and location.   
Vice-dean of College of Education
 For Graduate Studies and Scientific Research
Dr. Tallal bin Uqail Al-Khairy