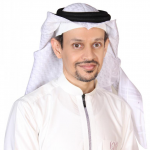 Dean of the College
Dr. Bandar bin Siraj bin Abdul-Rahman Faqiha
In the Name of Allah, the Most Gracious, the Most Merciful
All praise be to Allah, the Lord of the Worlds, and peace and blessings be upon the most honorable among Messengers, our Prophet Muhammad, and upon his family and all the Companions and Followers, and whoever followed them and will follow them in a fine way till the Day of Resurrection.
My dear students, my fellow academic and administrative staff members of the college, and dear visitors, welcome to the College of Health Sciences in Al-Qunfudhah.
The student is the focus, fruit and purpose of the educational process, and his/her preparation to address life's challenges in the current time and future is the main objective sought-after by our college. From this perspective, the college endeavors to graduate students provided with theoretical knowledge, practical experience, and positive behavior, along with the ability to make use of them in building themselves and developing their community. Such a matter is achieved by offering high quality education in accordance with international standards, developing the level of academic services provided for the student, and improving the college's academic programs for them to be compatible with the requirements of the labor market.
In accordance with the objectives of its strategic plan, the college also focuses on qualifying experienced health personnel and disseminating the culture of scientific research, innovation, and creativity. Moreover, the college aims at encouraging outstanding staff members and students to contribute to the knowledge industry in such a manner which ensures graduating well-trained cadre capable of achieving innovation and leadership in their specializations and their community.
Finally, we pray to Allah (Exalted and Glorified be He) to preserve our leaders and rulers, and to protect our dear country against every evil.
Verily, Allah is the grantor of success!