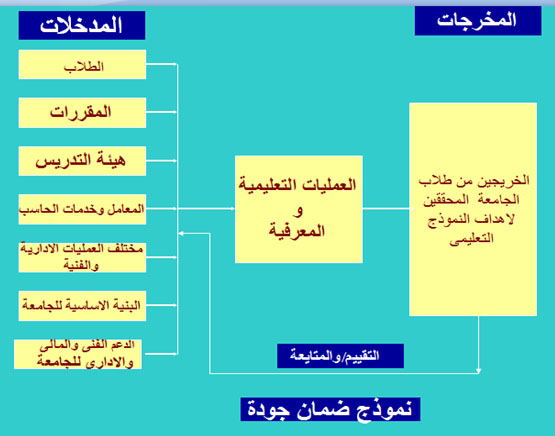 First: Quality Assurance of Inputs in Higher Education
1. Students  
This includes the following aspects:
Admission policies at the University.
Preparation programs and admission requirements at colleges.
Special skill acquisition programs for students (English language; scientific thinking; etc.).
2. Curriculum
This includes the following aspects:
Course objectives.
Course design.
The extent to which such courses are consistent with the rules of education in general.
3. Faculty
This includes the following aspects:
Appointment policy.
Faculty capacity development.
Continuous training plans for faculty members.
4. Infrastructure  
This includes the following aspects:
Labs and lab development.
Communication and mainframe computer services.
5. Institutional Facilities and Support  
This includes the following aspects:
Suitable buildings for colleges as well as green spaces.
Suitable and equipped classrooms.
Libraries.
Internet connection services.
Financial support.
Technical support; this includes qualified staff.
6. Processes
This includes the duties carried out in the following areas:
Admission and registration.
Appointments.
Means of education and methods of knowledge building.
Course development.
Evaluation of courses and the different methods of course delivery.
Other.
Second: Teaching and Learning
Shifting from reliance on teaching as a primary source of education to reliance on learning.
How do we assure the quality of both teaching and learning?
We depend on the following aspects:
Trained faculty members.
Continuous system evaluation by certified evaluation specialists.
Attention to student evaluation of all elements of the system.
Third: Outcome Assessment
There are two methods to estimate the outputs of study programs and assess the extent to which they are consistent with the objectives of study programs:
Direct method: using the analysis and results of student exams.
Indirect method: working on the analysis of the reports received from the various administrations associated with the education system.
Fourth: Responsibility to Follow Up the Attainment of Quality in University Education 
Supreme administration's persuasion of the education improvement policy and commitment to such policy.
The Head of Department has an essential role at the level of the Department in attaining the system of quality.
The community and environment in touch with the University.