​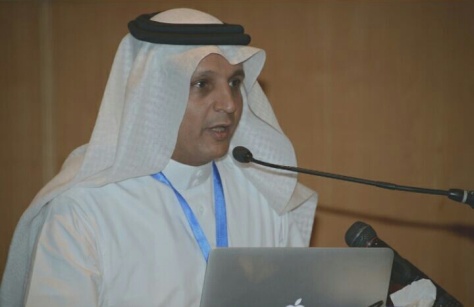 It is my pleasure to welcome you to the portal of the Postgraduate Studies Deanship at Umm Al-Qura University (UQU), which Allah has honored by its geographical location; it is Mecca where the first revelation of the Quran, the source of the divine massage that conveys values of science, work, diligence, excellence and perfection at all levels. Let's congratulate ourselves on the honor of science as well as the place.
The UQU's Postgraduate Studies Deanship is at the forefront of the departments responsible for promoting the university's research and scientific level, and it is a driving force towards reaching its objectives. This is why it is permanently thinking over the improvement and development so as to conform to the university's strategy of focusing on scientific research and graduate programs, to expand them, and to increase the number of admissions from graduate students year after year. More than 1000 students were admitted to various graduate programs of higher diplomas, Master's and PhD for the academic year 1438/1439 AH; hence, the total number of the students in the various graduate programs reached more than 3200 students, and we will graduate 550 male students, 337 female students during the academic year 1437/1438 AH.
The postgraduate studies programs' students have a great responsibility towards science. It is reliability necessitates its bearer to be diligent and honest in terms of scientific documentation; taking into consideration ethics of scientific work. My advice is to make great efforts to benefit from the expertise of faculty members or supervisors, as well as the services provided to the students by the university to come up with solid and modern research projects that contribute to advancing the development of our beloved country and to be reflected in its vision 2030.
Since its establishment in 1413 AH, the Postgraduate Studies Deanship has been focusing on preparing qualified scientific and professional cadres in various fields of knowledge. It has been a pioneer in the industry of future leaders, scientists and devotees of its glory, to whom you will be an extension. You will hold their flag in the scientific, development, innovation and creativity fields. I ask Allah to give you a permanent success in your scientific trip at Umm Al-Qura University.
We, at the Deanship of Postgraduate Studies, strive to overcome all obstacles in terms of the academic and administrative procedures stipulated in the unified regulations for postgraduate studies to complete the requirements of degrees, and this is through the efforts of all colleagues of the deanship and representatives of colleges and departments supporting the service of postgraduate studies students.
Thank you for visiting the deanship portal and I wish you find here all answers to your inquiries. Please evaluate the portal through the evaluation icon below.
(Your opinion honors us and encourages us to work more on serving the affiliates to UQU's Postgraduate Studies)
Sincerely
Dean of the Postgraduate Studies
Prof. Saeed bin Abdulrahman Al-Harthi