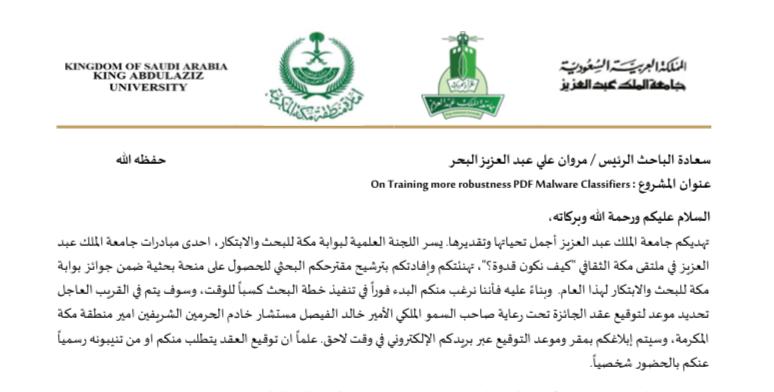 The scientific committee of Makkah Portal for Research and Innovation has nominated the research proposal of Dr. Marwan Al-Bahr, an academic staff member at the College of Computers in Al-Leith, on detecting malware in PDF files using artificial intelligence, to obtain a research grant within its awards for this year.
Dr. Al-Bahr explained that the proposal focuses on analyzing the pattern of malware traffic and harnessing artificial intelligence technologies to detect them.
Dr. Al-Bahr said the idea of the proposal aims at designing an easy model to enable all internet users to use it without the need to install any tools to analyze suspicious PDF files, and thus reduce their exposure to threats in cyberspace. He added that the Saudi Vision 2030, which stipulates supporting the use of information technologies and strengthening digital infrastructure, is consistent with such orientation. This is for it to become an essential enabler for building advanced industrial activities, spreading broadband services, and achieving advanced positions internationally in the United Nations' index for the development of e-government. "By all means, such a matter requires achieving cybersecurity which guarantees advancement of various information technologies in all fields," he expounded.