The Deanship of Scientific Research, represented by the Arabic Language and Literature Research Center, organized, in association with the Saudi Scientific Association for Arabic Literature, the symposium (Horizons in Arabic Research), which was copresented by:
Dr. Abdelaziz bin Abdelrahman Ahmeed, professor at the Department of Arabic Language Graduate Studies, and his participation entitled (Horizons of Linguistic Research between Obstacles & Demands);
Dr. Zafer bin Gharman al-Amri, chairman of the Saudi Academic Association for Arabic Literature and professor at the Department of Classic Arabic Rhetroic and Literery Criticism, and his participation was entitled (Basics of Rhetorical Research & Its Knowledge Dimensions); and  
Dr. Islam bin Abdel Al-Mujib Abu Al-Khir, associate professor at the Department of Literature, and his participation was entitled (Vocalization Poetry & Mechanism of Interpretation).
 The symposium was run by Dr. Aml bint Mohsen Al-Omari, assistant head of the Department of Literature and professor at it, on Monday 16 Ragab, from 10:00 am to 12:00 pm, at Khukeir Hall, Building D.
Thanks to Allah, the symposium enjoyed a dazzling attendance by the female faculty members, undergraduate and postgraduate students as well as students of the Institute of Arabic Language for Non-Native Speakers, due to the significance of the theme and its relevence to the linguistic research. At the end of the symposium, the attendees were allowed to discuss some theme-related issues.
Dr. Mohammed Mukhtar, vice dean of the Deanship of Scientific Research for esearch Centers, honored the participants as well as the symposium moderator. Thanks to Allah now and hereafter.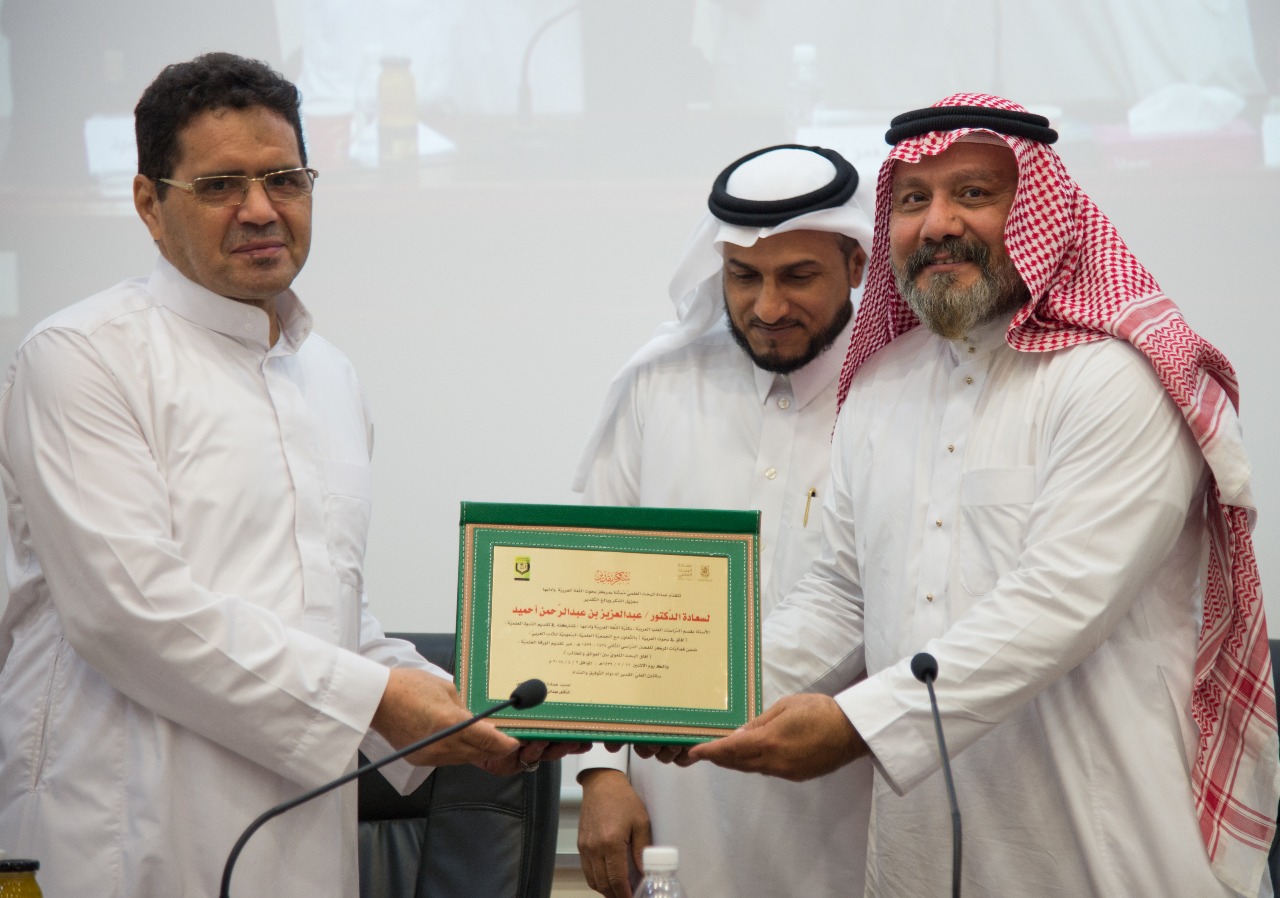 ​
​