Objective of Student Advising: Receiving college students in the Student Guidance Unit to deal with their guidance cases individually, according to the schedule set by the unit and the follow-up of the Student Advising Center.
Target group: Department students
Duration: One academic year
Executive body: Student Advising Unit
Implementation Procedures:
The college academic advisor prepares an advising file for each student, according to the details of the electronic registration.
The academic advisor studies the student file and follows up the academic processes (registered courses, achievement level, and the GPA).
At the beginning of every semester, the academic advisor holds regular interviews with each student included in his advisory list to learn about their performance in the previous semester.
During the academic semester, the academic advisor holds regular meetings with his students according to their individual cases and needs to assess student's performance level.
The obstacles and problems facing the students while studying are discussed and settled.
The academic advisor, in turn, stimulates the students to exert more effort.
Supervisor of the Student Advising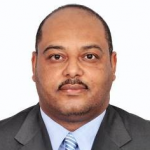 Dr. Al-Waleed Abdul-Raouf Omar Al-Minshawi
Academic rank: Associate Professor
University email: [email protected]
Personal email: [email protected]
Mobile Number: 0501426775
Website: https://uqu.edu.sa/eaminshawi