Within the framework of the research work activation, the Psychological and Educational Research Center at the Scientific Research Deanship held a meeting entitled "Criteria of Selecting Scientific Journal for Publishing in Arabic" on Tuesday 10/7/1439 at the College of Education's building- girls section, in the presence of Dr. Dayana bint Fahmy Hammad.
Dr. Kholoud bint Abdullah Al-Thubaiti, vice dean of the College of Social Sciences, welcomed the attendees and thanked the Deanship of Scientific Research and the Psychological and Educational Center. Then, she started the meeting by explaining the importance of scientific publication for researchers as well as the e-journals concerned with science. She gave the details of the criteria of selecting scientific journals for publication; displaying the criteria of the scientific council to accept the reviewed journals as well as the controls of the National Commission for Academic Accreditation and Assessment to classify the journals according to the Shari'a sciences and Arabic Language sciences. Also, she explained the controls of classifying the journals publishing in Arabic, and the criteria of selecting a distinguished scientific journal according to the global standards.
The vice dean, then, showed some examples of Saudi reviewed journals meet the criteria that were explained. She presented indicators to avoid the publication in the weak journals, and concluded the meeting with a summary of what was done; giving the attendees the opportunity to raise inquiries.
The meeting was attended by Dr. Abeer bint Mohammed Al-Saban, vice dean of the College of Education, and a group of leaders, female faculty members and postgraduate students in educational, Shari'a and Arabic disciplines. They influenced the meeting with their questions; expressing their desire to hold more scientific meetings similar and closely related to the interests of researchers at Umm al-Qura University.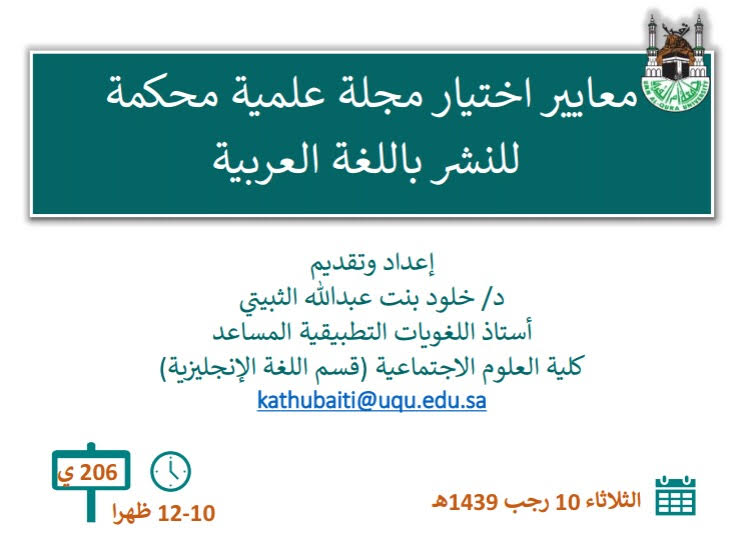 ​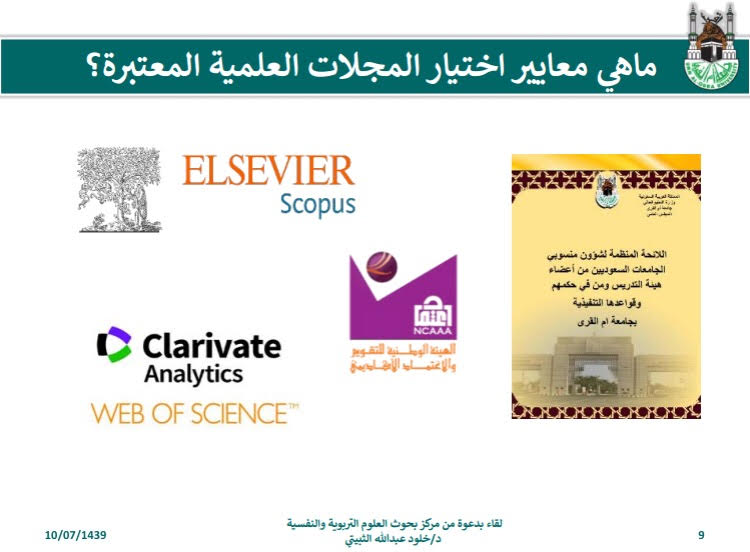 ​