Supported by Dr. Hashem bin Ahmad Al-Samadany, Dean of Admission and Registration, the Vice-Deanship for Registration Affairs (Girls Section) organized a number of workshops on academic schedule preparation. The workshops targeted the Vice-Deans for Educational Affairs, Assistant Department Heads, as well as members of the Academic Schedule Preparation Committee and the Academic Guidance Committee at a number of Girls Sections Headquarters. In this regard, Dr. Tahany bint Muhammad Al-Subeit, Vice-Dean of Admission and Registration for Registration Affairs, prepared the content of the workshop. She also presented the event with the participation of the following employees at the Vice-Deanship: Ms. Nof Yamany, Ms. Sarah Al-Ansary, Ms. Dania Flaly, Ms. Zahra Qasem, Ms. Siham Flata, Ms. Howaida Farash and Ms. Maha Al-Zahrany.  
The workshop sought to achieve a number of objectives including:    
Defining the significance of academic schedule preparation according to quality standards.
Defining the roles of the Academic Schedule Preparation Committee and the Academic Guidance Committee.
Defining the method to plan for the academic schedule preparation, including accounting for resources and study of requirements.
Providing different methods for designing academic schedules.
Explaining the main regulations that determine the appropriate time to open a course and set the ceiling of the Division.
Practical explanation of the method to enter the schedule on the university system.
Reviewing the major registration problems associated with the schedule.
The workshop was held in the form of two-hour sessions on various days (Wednesday-Thursday, 12-25th Jumada II 1439H), in coordination with the each college. In this context, the total number of beneficiaries reached 114 members from 12 different colleges, while the total number of training hours reached 16.
It is worth mentioning that the attendees appreciated the efforts of the Deanship of Admission and Registration to organize the event. They added that such workshops were significant, as they helped check the quality of academic schedules as the basis of the educational process. They also hailed the workshops in general as explained in the following assessment: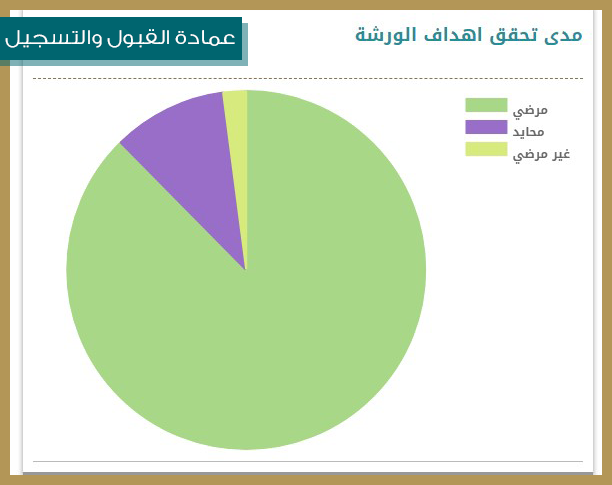 ​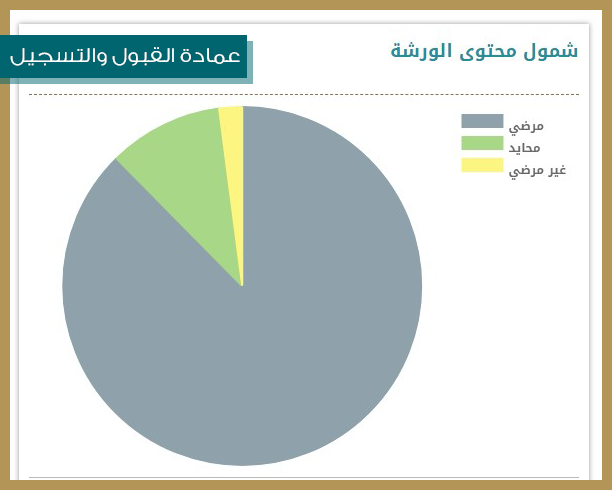 ​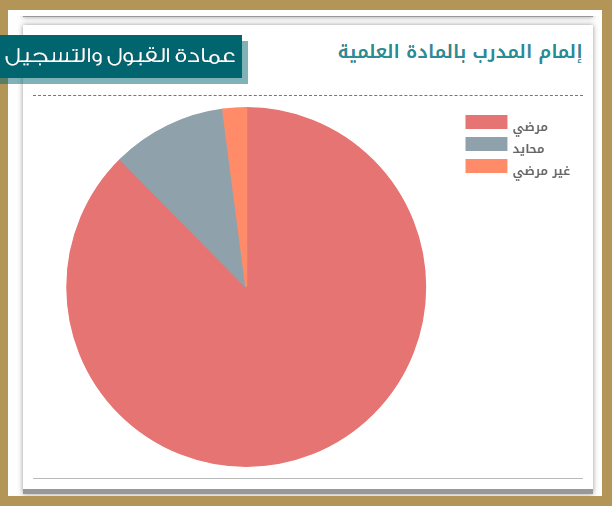 ​