The Deanship of Scientific Research in the Girls Section held a meeting with the Head of the Research and Studies Unit at the Private Education Office affiliated to the Education Administration in Makkah, Dr. Sabah Samanoudi. The meeting was held on Tuesday 25 Safar 1439 AH to discuss joint cooperation aspects between the unit and research centers and services within in the deanship.    
The meeting is an implementation of the instructions of the President of the University, Dr. Bakri bin Matouk Assas, to make scientific research's main focus serving Makkah's community, and work to achieve Saudi Arabia's 2030 vision, with the follow-up of the Vice President of the University for Higher Studies, Dr. Thamer Al-Harby. It is part of the keenness of the deanship to frame the joint cooperation aspects among researchers in Umm Al-Qura University and the bodies benefiting from the result of the scientific researches in a way that suits the needs of these bodies.
The deanship gave a brief presentation about its administrative structuring and the tasks of the various deanships. It also presented the objectives of the specialized research centers in general and the centers of educational and psychological researches in particular. The role of "Ataa'" (Giving) initiative for research volunteering in foreign agreements and partnership was also presented. Head of the Research and Studies Unit at the Private Education Office also presented the research and training needs of the unit for the research and studies units at the Office.   
The deanship discussed ways of activating the role of research centers in developing and spreading the culture of scientific research in private education in a way that suits the needs of the bodies benefiting from holding workshop specialized in developing the skills of leaders and teachers in scientific research, as well as in the arbitration of researches, while encouraging research volunteering among the staff of private education schools in Makkah.   
The meeting was attended by the Vice Dean of Scientific Research for Quality and Development, Dr. Hanady Buhairy, and the Deputy Heads of Research centers: Dr. Diana Hammad, Deputy Head of Educational and Psychological Research Center; Dr. Haifaa bint Othman Feda, Deputy Head of Arabic Research and Arts Center; Dr. Nourah bin Saleh Farouky, Deputy Head of Engineering and Architectural Science Research Center; Dr. Somaya bint Hashim Hariry, Deputy Head of Medicine and Medical Sciences Researches Center; and Dr. Somaya Sharaf, teaching assistant at the Psychology Department and Head of "Ataa'" Initiative for research volunteering and volunteering researches.
Head of the Social Sciences Research Center, Dr. Abdulhady bin Mihdar Aidrous also contributed to enriching the cooperation proposals, together with the Deputy Head of the Applied Sciences Center, Dr. Hanady bin Ahmed Katawaa.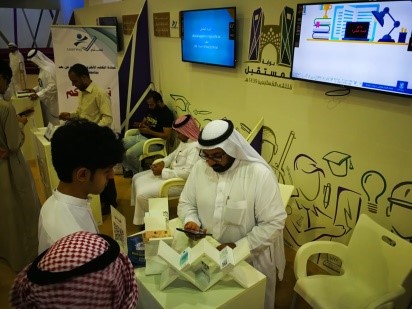 ​