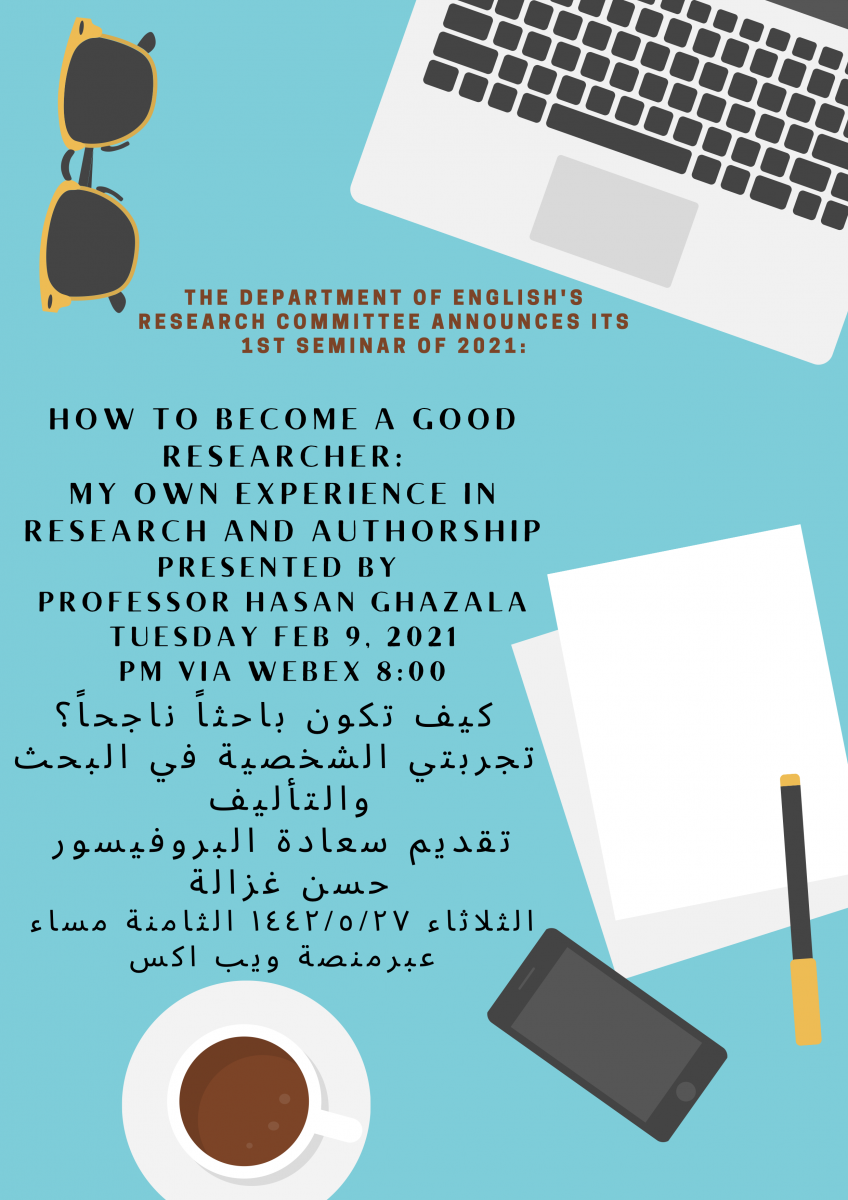 The Department of English's Research Committee is pleased to announce that registration is now open for the upcoming seminar entitled "How to Become a Good Researcher: My Own Experience in Research and Authorship," presented by Professor Hasan Ghazala.
The lecture aims at restressing the extreme importance of scientific/academic research and the dire need for it especially nowadays the world over. The lecture also demonstrates the means, criteria and conditions that make out a good researcher if he/she assumes them, or at least a number of them. Top of the issues to be proved and approved by this lecture is to falsify the frustrating claim of some pedants that scientific research is done exclusively by the so called and self-acclaimed geniuses and talented people only, to confirms at the same time that research is an outcome of hard work that is definitely available to, and can be achieved by any hard worker on research. The lecturer argues strongly that working hard on research is a Grace endowed by God the Almighty to all people without exception on equal terms. The last part of the lecture is a short account of the lecturer's personal experience in research and writing, being an ordinary, hardworking, untalented man like most people. It is his belief that, indeed, persevering hard work can do miracles.
Speaker's Bio
HASAN SAID GHAZALA is currently a Full Professor of Translation and Stylistics since 2003 at the Department of English, College of Social Sciences, Umm Al-Qura University, Makkah Al-Mukarramah, Saudi Arabia. He has so far published 31 books and 57 papers in the two areas of his specialism including 3 dictionaries and an 11-volume Encyclopedia of Translation Textbooks. His latest is a big one-volume The First Arabic Encyclopedia (موسوعة الترجمة العربية الأولى) (2020) (in Arabic, with Arabic-English-Arabic applications) and Styles of Speaking (in Arabic) (2020). He is the winner of Sheikh Hamad Award of Translation and International Understanding in 2017 (Translation Studies and Dictionaries Award).
Seminar Location: Remotely via Webex
Seminar Language: Arabic