Measurement and Evaluation Unit
This unit is responsible for carrying out continuous assessments at the college to verify the achievement of objectives, provide feedback to address disorders, and promote development.
To contact the General Supervisor of the Measurement and Evaluation Unit at Al-Qunfudhah University College, click here.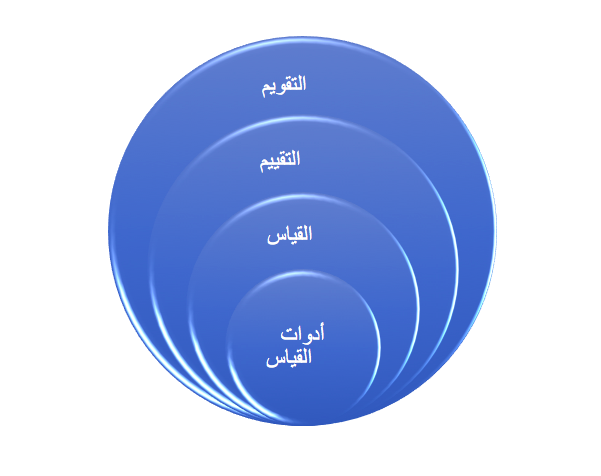 Evaluation can be defined as: a judgment on the extent to which the objectives have been achieved, accompanied by a continuous process of development and improvement. An academic judgment can only be made after using a measurement process that quantitatively describes the outputs. This can only be performed using appropriate measuring tools, such as questionnaires, tests, surveys, and interviews.
Measuring tools: (questionnaires, tests, surveys, interviews, comments).
Measurement: Use of appropriate tools to make an assessment, including a quantitative (digital) description of the object to be measured.
Assessment: An academic judgment on the extent of achievement of objectives, for example: Excellent: achieved (90%) of the goals; very good: achieved 80% of the goals; good: achieved 60% of the goals).
Evaluation: An academic judgment on the extent of achievement of objectives, accompanied by feedback for the development, improvement and modification of weaknesses, a process that includes all the previous processes.
Vision:
To achieve creativity and excellence in measuring and evaluating the performance of Al-Qunfudhah University College.
Mission:
Build tools and measurements to assess the college performance, and provide feedback to achieve comprehensive evaluation in order to develop and improve the college performance in light of the university plan.
Objectives:
Diagnose problems facing the educational process.
Conduct comparative studies to determine the level of the college, both locally and regionally.
Discover the training needs of the college staff.
Measure the performance levels of the different elements of the educational process, including: members of the teaching staff, curriculum, students, staff performance, and the educational environment.
Determine the conditions needed for the college staff to assume a certain task.