Logo: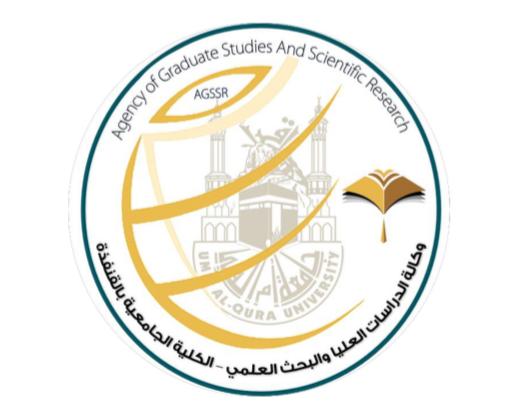 Vision:
The vice deanship aims at creating an academic environment that encourages scientific research and knowledge creativity.
Mission:
The vice deanship leads the field of the scientific research, provides motivating services and enhances societal partnership through creative knowledge approaches.
Message from the Vice dean of Poatgraduate Studies and Scientific Research: 
Praise be to Allah, and peace be upon Prophet Muhammad, and upon his family and companions:
The Vice Deanship for Postgraduate Studies and Scientific Research spares no efforts to realize the scientific and academic development of the college according to the highest levels of Total Quality Management (TQM) and making sure it is fully maintained. The vice deanship is tasked with conducting a scientific research job as per the highest standards. It encourages teaching staff to pay special attention for this file which features renaissance-oriented communities.
Part of its role, the vice deanship boosts community ties in line with the university's values and mission to serve the community via a group of ambitious programs.
It aims at recruiting highly qualified cadres in all fields to create a favorable environment of study. The vice deanship is keen on getting the teaching staff involved in courses, seminars and conferences held at the local or the international levels to improve the pedagogical process
Vice dean's duties:
Following up the TQM and its requirements as well as the verification of its application in the college.
Providing the academic accreditation and its requirements.
Holdingacademic training courses and workshops on quality accreditation and professional development for the teaching staff members.
Maintaining constant communication with different institutions and inking partnership agreements that serve the college's objectives in the field of the community service.
Following up the academic jobs (teaching assistant, lecturer, assistant professor) along with any other related procedures.
Taking care of scholarship students, finalizing all related procedures, following up their requests in coordination with the departments in concern and providing the scientific and academic consultancy up request.
Recruiting highly qualified scholarship students and graduates in coordination with the Deanship of Faculty Members Affairs.
Organizing the participation of staff members and the like in local and international conferences, seminars and courses.
Facilitating promotion formalities for the staff members and the like
Following up the implementation of the college's policy with regard to the postgraduate studies and scholarships
Suggesting and monitoring the postgraduate studies' programs
Supervising the development and review of postgraduate studies' conditions of admission
Supervising the postgraduate studies' processes, tests and committees
Supervising the induction program for postgraduate studies' students and following up its implementation
Receiving decisions taken by the departments on requests raised by the postgraduate studies and submitting them to the Deanship of Graduate Studies upon approval by the college's council
Controlling requests raised by students to postpone and not to study according to the resolutions and decisions taken in this regard for the postgraduate studies
Paying special care for the scientific research and local issues to create a favorable environment
Encouraging the teaching staff to public scientific researches and translated works
Supervising college's development activities and procedures in the field of the scientific research
Supervising the strategic development of researches and plans in addition to the adoption of their mechanism
Monitoring the financial support paid by the university and external sources.
Coordinating research and support procedures with the Deanship of Scientific Research, college research centers and the external research institutions
Conducting the necessary coordination with the college departments in concern
Supervising units affiliated to the college
Presenting periodical reports for the dean on the work flow in different units according to missions and challenges faced in this regard
Supervising the processing of issues raised with regard to the postgraduate studies and scientific research
Carrying out duties assigned by the dean