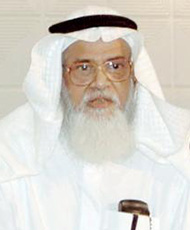 ​
Name: Mohamed Ibrahim Ahmed Ali Shemsher
Born in Al Shamiyah district at the holy city of Makkah, in 1355 AH
Died in 17/3/1430 AH
Biography:
He finished his primary school at AL Aziziyah School, in Al Sahamiyah district, in 1368 AH. The school embraced many prominent scholars, like: Sheikh Al Faqih Mohamed Amin Merdad Al Hanafi, the prominent historian Sheikh Taher Al Kurdi Al Khatat, Sheikh Mohamed Sa'ati, the math teacher, and Sheikh Hussein Merdad (May Allah rest their souls)…etc. He finished his high school at the Saudi Scientific Institute in 1373 AH.
He studied under the greatest scholars of Al-Masjid Al-Haram, namely: Sheikh Mohamed Merdad, Sheikh Abdullah Derdoum, and Sheikh Mohamed Zeini Abdel Hadi Kotbi (May Allah rest their souls). He was also taught by Sheikh Mohamed MetwallyiAl Shaarawy. He earned a scholarship to study in Egypt after graduation due to his superior performance, but his father didn't want him to do so. He obeyed his father and enrolled in the College of Shariah in Makkah Al Mukaramah, at the behest of his father.
Career:
He was appointed as a teacher at Khalid Bin Al Waleed school "may Allah be pleased with him) at Al Shebeika district, and later at Ajyad district after the school was moved there. He was sent to study at the American University in a scientific training course for teachers and obtained his degree. In 1384 AH, he was appointed by a decision from the Minister of Higher Education, as a lecturer at the College of Shariah in Al Zaher district. In 1385 AH, he was sent to study in Britain for his PhD degree, which he received with a first class honors with distinction, and a recommendation to have the doctoral dissertation published, from the Department of Comparative law in 1391 AH. He has also obtained a diploma in English law and Legal Studies with first class honors, from University College London.