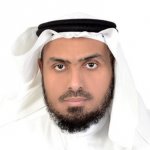 Praise be to Allah and may praise and peace be upon his Messenger.
Jamoum University College is one of the main pillars in supporting the path of the human resources in the governorate. It is fully aware with its great role; so, through its academic and research programs and interaction with the society, it aims at the aspired civilization advancement, as per the modern Kingdom Vision 2030.
The College fulfills its complementary role with the University, so that students can learn what could benefit them to achieve their leading role towards their country after graduation, for which they are highly qualifies.
We work in the College as a one team to offer the suitable educational environment for preparing the youth of this country, because we believe that the goals that our leaders aspire to could not be achieved without cooperation of all efforts.
We ask Allah to preserve the blessings of safety and security and help our leaders.

We ask Allah to grant us success and help.

Vice Dean of Jamoum University College Dr.  Omar Saleh Al-Maleki