(Media Skills)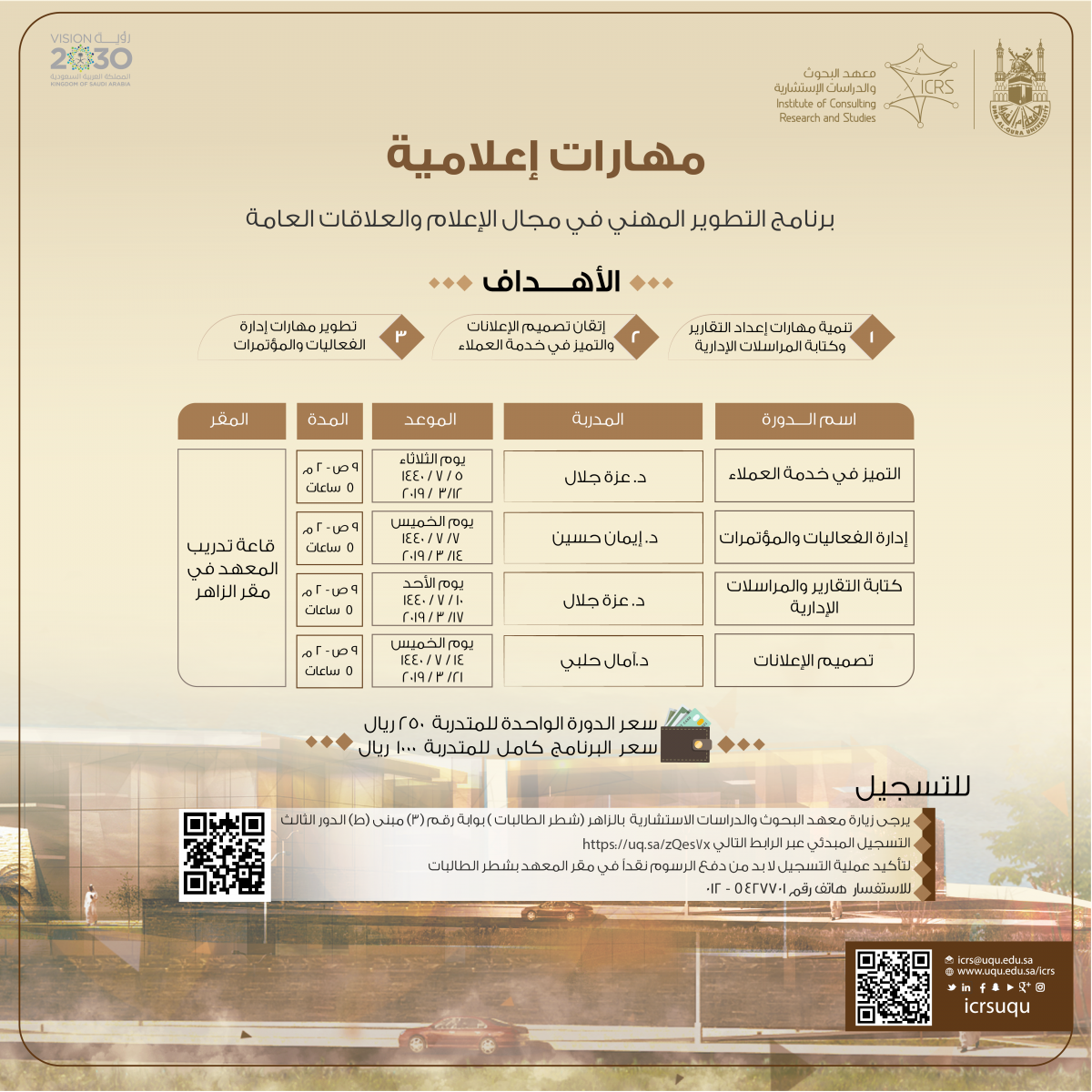 Objectives:
Development of skills for reporting

and writing administrative correspondence.

Mastery in designing advertisements

and excellence in customer care.

Development of events and conference management skills.
The Training Schedule:
 

Course Name

Trainer's Name

Date

Number of Hours

Time

Location

1

Excellence in Customer Care

Dr. Azza Jalal

Tuesday

5 Rajab, 1440 A.H.,

12 March, 2019 A.C.

5

9 a.m.-2 p.m.

Training Hall at the Institute's Headquarter

2

Events and Conference Management

Dr. Eman Hussain

Thursday

7 Rajab, 1440 A.H.,

14 March, 2019 A.C.

3

Writing reports and administrative correspondence

Dr. Azza Jalal

Sunday

10 Rajab, 1440 A.H.,

17 March, 2019 A.C.

4

Designing Advertisements

Dr. Amal Halabi

Thursday

14 Rajab, 1440 A.H.,

21 March, 2019 A.C.
Number of credit hours in all the training program= 20
Length of training= 5 Days.
Registration fees in the complete program= SR 1000
Registration fees for one course= SR 250
For

Registration:
Please visit the Consulting Research and Studies Institute, Female Section, Al-Zahir Campus, Gate 3, Building (T), Third Floor.
To have your registration confirmed, fees must be paid in cash.

For inquiries:

[email protected]
Evaluation Form: Click here