Full-Time Consultation Services:
This is a consultation provided by UQU affiliates to beneficiaries who seek to utilize their expertise in one of UQU's distinction domains. The objectives of the consultation are fulfilled via a full-time consultants at the entity.
Many entities need consultation to develop their work because of the required plans and programs during development stages. In other words, they need external expertise in disciplines that may not be available to them. Moreover, they may want work to be done by third parties complying with standards without being affected by the conditions of the internal environment.
Number of Full-Time Consultants and Beneficiaries:
There are a number of government and private entities that the Institute of Research and Consultancy Studies has cooperated with and provided the services of full-time consultants to. In this regard, 167 contracts have been signed from 1428 A.H. to 1438 A.H.
This is illustrated in the following table: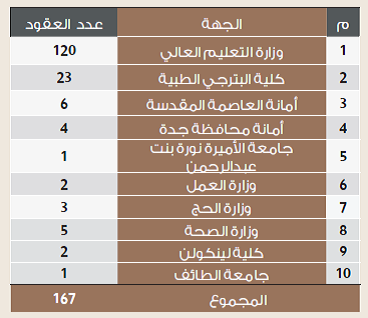 ​
Beneficiaries of Full-Time Consultants' Services: