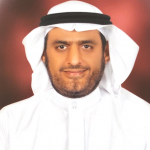 Dean of the Applied College
The Applied College is one of the oldest colleges among the Saudi universities and in the world; as it is regarded as an improved extension of the College of Community Service and Continuing Education and the Community College. The goals and tasks of this college stem from its name; it is a college that is primarily concerned with community service by providing everything that achieves the advancement of the community in all respects. It is also concerned with a matter in the society, i.e. the continuity of education. General education and university education may be available to a large segment of the society, but the Applied College is concerned with the continuity of this education. This is achieved through the development of interface software, bridging programs to higher levels, or presenting training courses that provide knowledge, cognition and skills to members of the society. For this reason, this college has occupied its high and lofty position among university colleges and has become in a position of leadership for a large number of them. This is through the preparation and structuring of many programs, which provide scientific and training services to the rest of the university colleges through the Applied College. Therefore, it is not unreasonable to say that the Applied College is considered a mini-university, practicing the great work that a university does but within the limits of its capabilities and energy. It deals with admission and registration, student affairs, programs, diplomas, and training courses, in addition to everything that serves and advances the society and provides the community with continuous education that allows its members to continue their education in various aspects, regardless of their age or status.
I ask Allah (Glorified and Exalted be He) to bless this college, make it beneficial to all, and to guide its officials to always do what is best. May Allah reward our rulers and the leadership of this blessed country, the Kingdom of Saudi Arabia, with the best reward for the great and continuous support they provide to universities and higher education, in general, and to the colleges of community service and continuing education, in particular. These royal directives and the care provided by our wise government are executed by His Excellency the Minister of Education. We ask Allah (Glorified and Exalted be He) to increase him in success and to guide him to what is best. Many thanks are also due to the President of the University for his care and great interest in this college and the rest of the colleges of the university.
May Allah's peace and blessing be upon His slave and Messenger, our Prophet Muhammad, and upon his family and companions!