​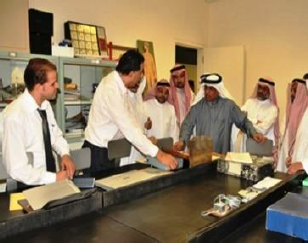 The Psychology Laboratory was established at the College of Education when it was affiliated with King Abdulaziz University in Makkah in the academic year 1393/1394 AH, corresponding to 1973/1974, in order to perform four main functions:
First: Training the University's bachelor's degree students studying for educational preparation and the General Diploma in Education as well as graduate students on scientific laboratory experimentation and how to utilize it in psychology. This is through carrying out experiments on different psychological phenomena and other activities.
Second: Training the College's students in different levels of study on the designing of tests, especially educational and achievement tests.
Third: Training students on applying psychological tests, especially IQ tests; mental aptitude tests; skills tests; achievement tests; personality tests; interest-attitude tests.
Fourth: Conducting experimental research in the different areas of psychology and standardizing psychological and educational tests, especially for graduate students.
The laboratory includes two main sections:
The Laboratory of Experimental Studies in Educational Psychology, which has the devices, tools, and equipment necessary for studying the phenomena related to issues of reaction time; attention; learning; cognition; thinking; problem-solving behavior, and other areas.
The Psychological Tests Laboratory, which has psychological and educational assessment tools. It is also supplied with samples of IQ, mental aptitude, and motor skills tests; personality and interest tests; attitude and value scales; and other material.